Venue
Bring­ing artists and audi­ences togeth­er in a live broad­cast envi­ron­ment, where mem­o­ries and moments can be shared and broad­cast in dig­i­tal realities.
We've con­jured up a unique blend of sound and light for audi­ences of up to 350 peo­ple to enjoy in the venue; using ​'sets' with­in the venue to stream live to a glob­al audi­ence of up to 7.6bn. Next up, we'll be exper­i­ment­ing with future tech to push the bound­aries of what a venue can be. We'll main­ly be keep­ing things local whilst the effects of the pan­dem­ic reduce, then we'll be bring­ing artists and tal­ents nation­al and inter­na­tion­al to the venue for local enjoyment.

Audio & Acoustics
The venue hosts a unique multichannel array set up of Funktion One speakers with Full Fat Audio amps. 18 speakers, each with DSP control are placed around the venue which creates the opportunity to make spatial sound scapes along with seperate individual outputs, evoking a sense of theatre that immerses the audience from entering the building. Our exploration of high fidelity sound is ongoing; currently we are using Klipsch Cornwalls powered by Icon Audio and Bryston amps. The venue has been clad in acoustic treatments and angular surfaces, to reduce the effects of standing waves and reflection.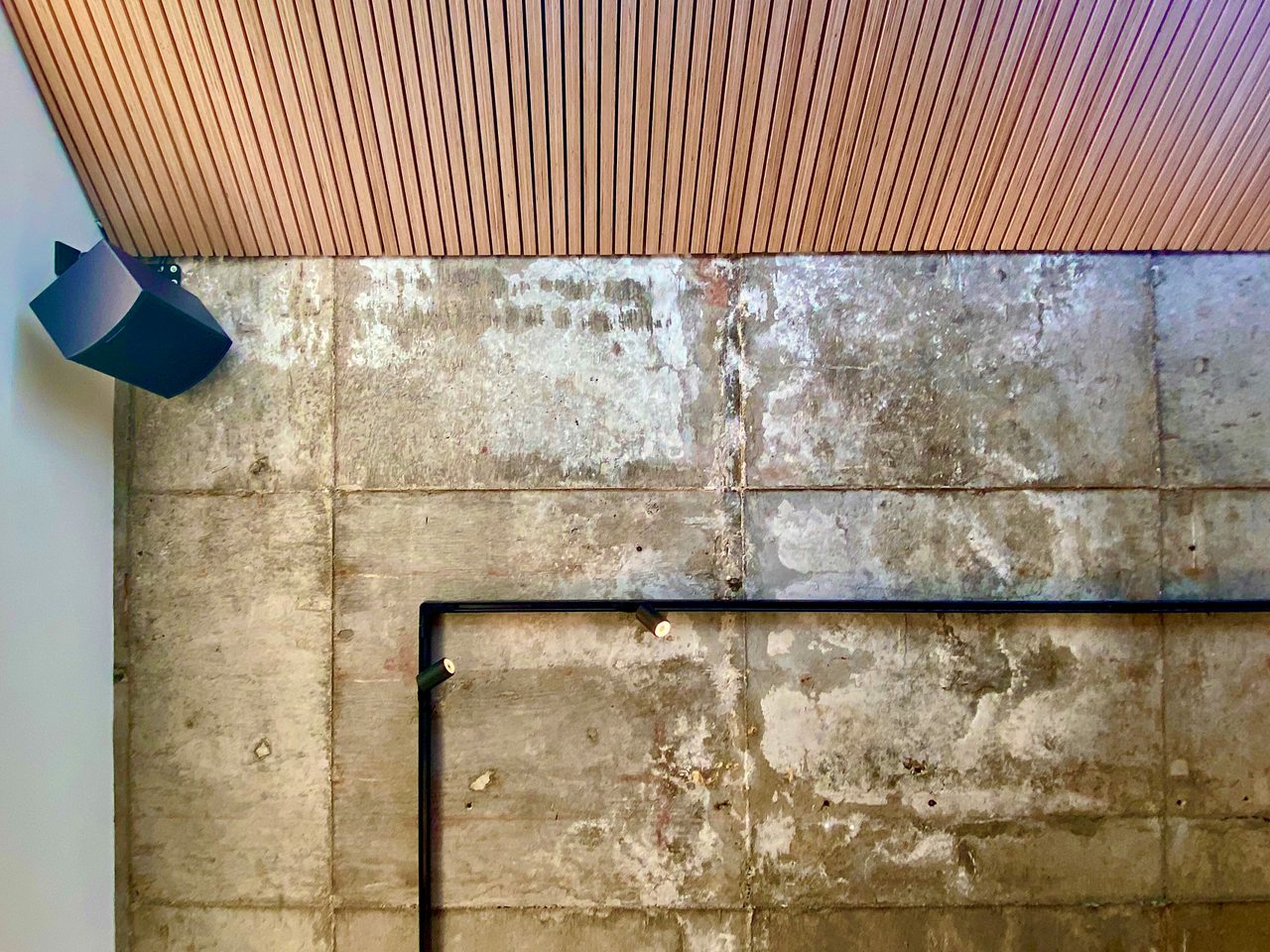 Lighting & Art
Bespoke dynamic light & art installations have been built into the structure of the building to create an ever changing immersive experience. Each LED can be programmed individually, reacting to various data sources such as audio, sensors and in development, AI.
Broadcast
The venue has been designed and equipped to enable art, music, performance and talks to be broadcast, recorded, edited and made available as produced content within the venue. The concept is to turn the venue into a satellite, platforming and transmitting to a digital audience.
Future technologies
Faith In Strangers will continue to explore and celebrate future technologies and science. Experimentation in the realms of AI, XR (Extended Reality), audience interaction, immersion and sensors.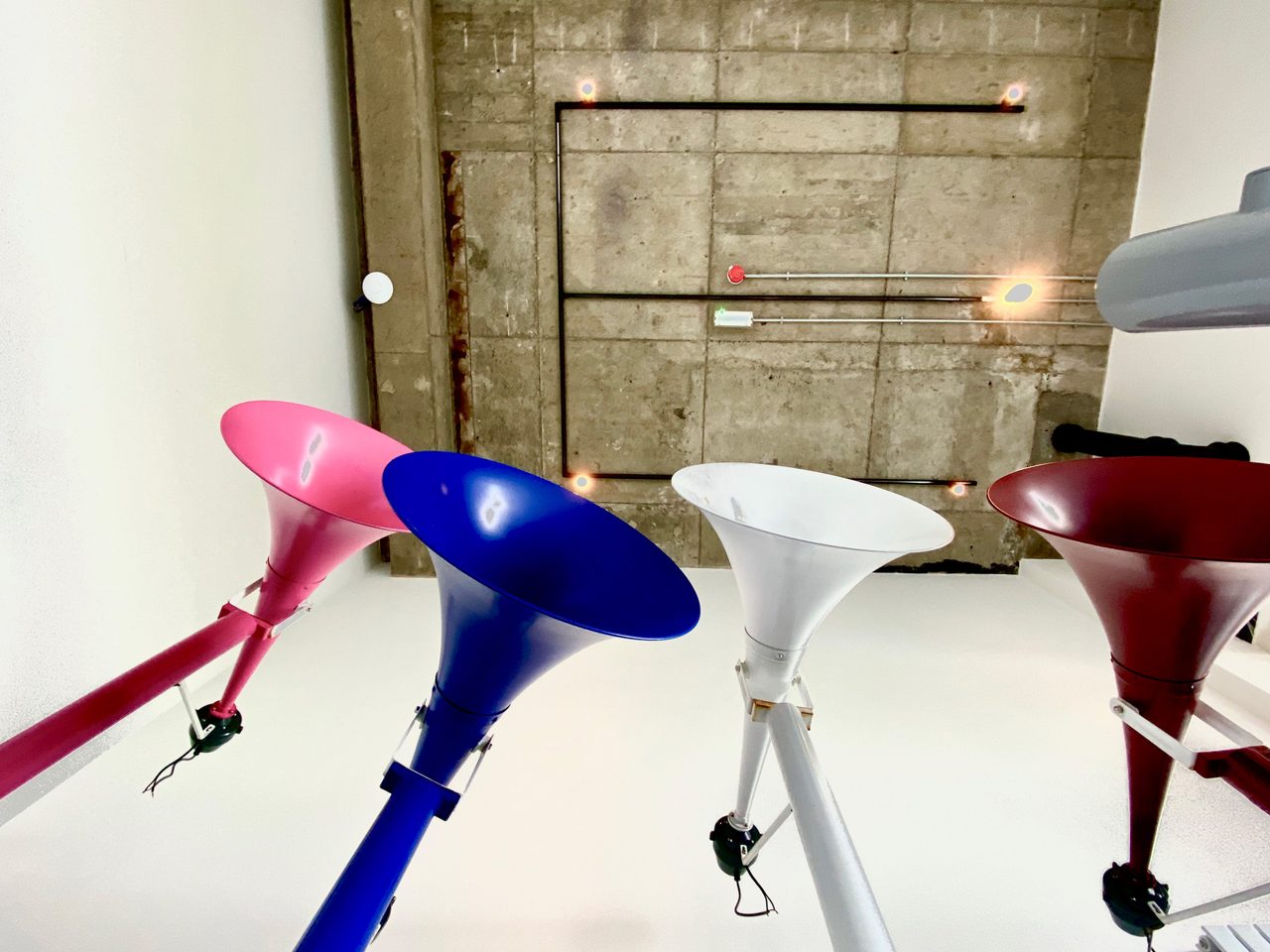 The venue is built with the future of art and inter­ac­tiv­i­ty in mind. In prac­ti­cal terms this trans­lates in unique­ly designed instal­la­tions that can be con­trolled by artists and the audi­ence. Our aim is to blur the lines between real­i­ties, live and vir­tu­al, with­in the venue. If this sort of thing floats your boat and you want to get involved or you want a full venue spec­i­fi­ca­tion sheet con­tact us.
FAQ
Can I have my birthday/wedding/wake at Faith In Strangers?
Currently we don't offer private hire but we can cordon off a section of the venue for your event, on some occasions. Contact us with your requirements.
What if I want to put on a show at Faith In Strangers?
Please check out our arts policy and have a look through our previous events to get a feel for our programming. Contact Us with your ideas and plans.
Is Faith In Strangers a safe and inclusive space for me and my friends?
We hope that our venue can help in the struggle for respect, equality and opportunity for all. We aim to promote artists and performers of all demographics. We have a panel of advisors and policies to guide us but we are adapting and learning along the way and are willing to engage in discussions on how we can improve. Please contact us if you have any questions or suggestions.